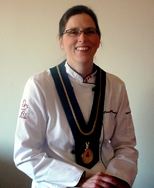 A unique approach to cooking and teaching, a lifetime in the making.
Getting to the launch of Cooking with Candra wasn't a walk in the park. It is the culmination of my experiences as a chef, a teacher, a mother and a wife that has taught me the lessons I hope to pass on.
My work in food service started early in my teen years. Working a variety of front and back of the house positions in a number of different restaurants allowed me to learn a lot about the food service industry.
A lot of the things you have seen in television and movies, concerning work in professional kitchens is true. It's hot, it's hard, it's physically demanding, and there are a lot of "big egos" to contend with. As far as the money goes…….all I can say is……"You better love what you are doing". Your passion for the work will help you make it through those tougher times.
I have spent a lifetime working in food service and I wouldn't change a thing. I have not enjoyed every moment, that's for sure, but I have faced every challenge with courage and learned from my mistakes. This attitude has helped me reach the top of my trade and become a successful Chef.
Over the past few years, I have been following another passion of mine and using my spare time to become an adult educator. I love to teach. Playing even the smallest part in another person's journey to reach their full potential gives me such great pleasure. It is a very rewarding career.
My greatest reward in this life, is my family. I have been truly blessed and I can not thank them enough for their continued love, patience, understanding and support. I would not be the person I am today without them.